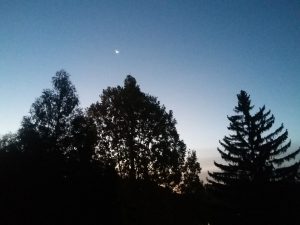 When the clocks change, it is possible to sleep in and still wake up early. There is a gift of light at at morning, and when the darkness closes in at the end of the day, the house is warm and bright.
In the afternoons the winter light, low on the horizon, illuminates the undersides of things. Branches, tree trunks, bricks and foundations. The curve of land along the edge of the ravine reveals itself.
No one attuned to the seasons can hate the changing of the clocks. The shifts–an hour forward, an hour back–remind us that we are still, even in our cities and towns, despite our cars and central heating and schedules and routines, bound by the shifts and rhythms of the seasons. They remind us that chronos is clumsy–how the loss or gain of an hour jars–while kairos is stealthy and almost imperceptible, like the curve at the edge of the horizon. If we pay attention, and if we listen carefully, kairos tells us when it is time.
A few mornings ago the roofs were white with frost. The leaves detached, one after the other, from their branches, and showered down in golden cascades. The leaves of the basil and beans had shriveled. In the cedars the little birds chittered and spoke but did not sing. And the lake lay low and glassy long after sunrise, and on the stony beach each pebble glowed in the low light.
In the low light of the afternoon, I tipped over the garden pots, and tucked away the cast iron frogs, and put away the hose. I gathered leaves and spread them over the gardens, and put away the chairs and cushions and cleaned the ashes out of the fireplace. I swept the walks and inventoried the shovels and filled a bin with rock salt. And that night for dinner I roasted vegetables and made a stew, and we lit candles at the table and, in the last hour before bed, sat together in silence.
I knew to do these things–just as we know to leave the porch light on, and to wait a little longer for the cats to come home, and to fill the bird feeders and shut the storm windows–not because of a date on the calendar, or because the clocks were about to change, but because kairos told me it was time.